Summer typically means rising temperatures and outdoor activities so what could be more refreshing than a cold, vitamin-packed smoothie!
Tropical Smoothie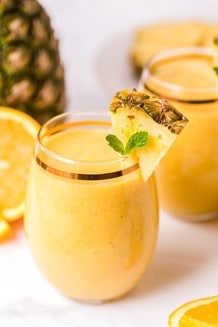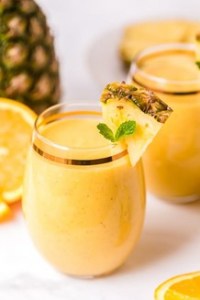 INGREDIENTS:
3/4 cup pineapple juice
1/2 cup canned coconut milk
1 large banana sliced
1 cup frozen mango
1 cup frozen pineapple
Optional garnishes: Lime slices, mint sprigs, pineapple wedges
Pour all the ingredients into the blender and blend until smooth. Pour and enjoy! Top with a mint leaf or pineapple wedge for a fun aesthetic!
A few benefits of this smoothie: 4g of fiber, a punch of Vitamin C & Vitamin A, and a delicious taste that will make this a new staple for your summer!
*Fun Tip: Pour into popsicle molds for tropical popsicles!
From: https://joyfoodsunshine.com/green-smoothie/
Green Smoothie
Ingredients:
1 ½ cups of almond milk
2 cups of frozen spinach
1 medium frozen banana
1 cup of frozen mixed berry (or other fruit of choice)
1 to 2 scoops of protein powder of your choice
Pour everything in the blender (liquid first), blend, and enjoy!
For added benefits, you can include chia seeds for fiber, collagen for gut health, or almond/peanut butter for healthy fats!
A few benefits of this smoothie: Vitamin C, Vitamin A, Iron, and Calcium!
From: https://www.dinneratthezoo.com/tropical-smoothie-recipe/
Chocolate Peanut Butter and Banana Smoothie
Ingredients: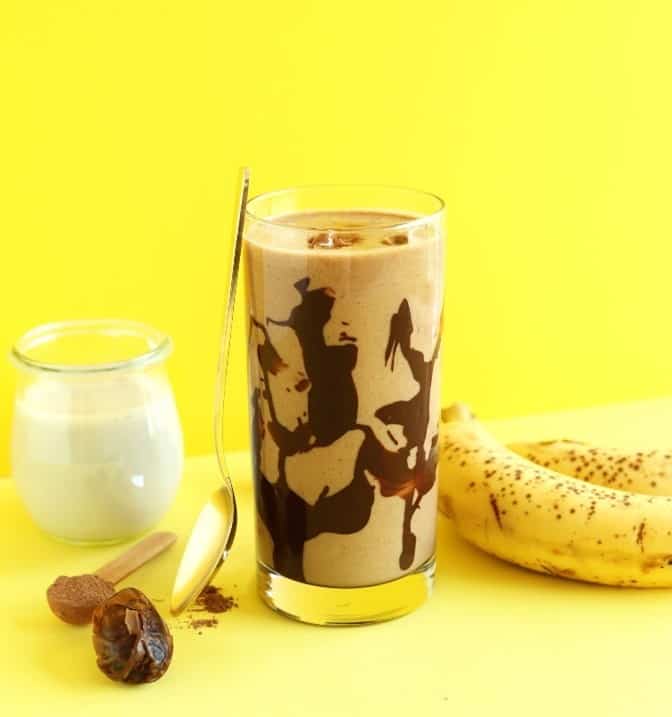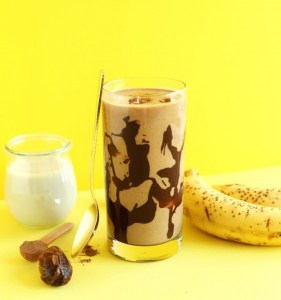 1 large frozen ripe banana
2 Tbsp salted natural peanut butter (if unsalted, add a pinch of salt)
1-2pitted dates (if not sticky and moist, soak in hot water for 10 minutes, then drain)
1 Tbsp cacao powder or unsweetened cocoa powder
1 to 1 1/2cups Unsweetened Almond Milk
Add ingredients to the blender, blend and enjoy!
For a fun crunch/garnish add cacao nibs and coconut whipped cream!
A few benefits of this smoothie: Fiber, potassium, and a zing of natural caffeine!
From: https://minimalistbaker.com/chocolate-peanut-butter-banana-shake/