HELLO SPRING! We can finally say so long to the cold, short days and gladly welcome more sunshine and even blossoming trees! I do love Spring- probably my favorite part of it is the days getting longer. With the days getting longer, the last thing I want to do is spend hours on end making dinner when I could be outside enjoying the daylight.  I've put together a list of a few YUMMY, quick and healthy dinners to fit in great with this change of season!
Spring Greens Matzo Frittata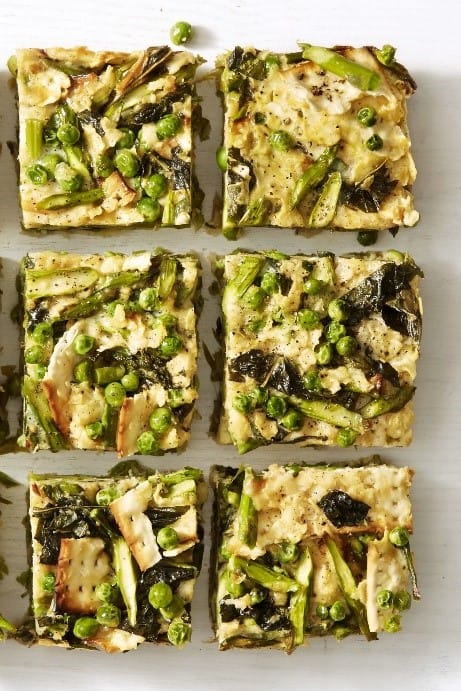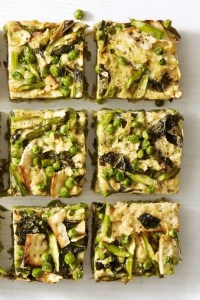 Ingredients
1 tbsp. butter
1 bunch (about 1 lb.) thin asparagus, trimmed and cut into 1″ lengths
5 sheets matzo, broken into large chunks
5 large eggs
1 c. basil leaves, chopped
1 c. frozen (thawed) peas
1 tbsp. lemon zest
Directions
Preheat oven to 350°F; spray 8-inch-square baking dish with nonstick cooking spray.
In 12-inch skillet on medium, melt butter. Add asparagus; cook 5 to 8 minutes until crisp-tender. Remove from heat; let cool.
In medium bowl, pour 1 cup warm water over matzo and let soften 5 minutes. Drain.
In large bowl, beat eggs. Stir in asparagus, matzo, basil, peas, lemon zest, 1 teaspoon salt and 1/2 teaspoon pepper. Pour into baking dish.
Bake 40 minutes or until top is golden brown and center is set. Can be refrigerated up to 3 days.
Nutritional information (per serving): About 200 cals, 10 g protein, 25 g carbs, 6 g fat (3 g sat), 3 g fiber, 465 mg sodium
Roasted Salmon with Crispy Potatoes and Broccoli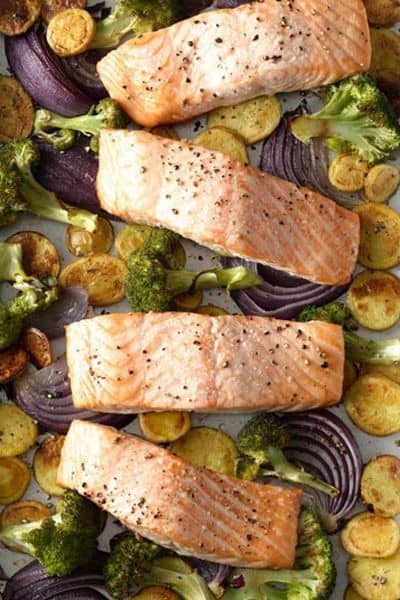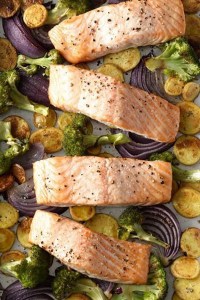 Cal/Serv: 506
Yields: 4
Prep Time: 0 hours 20 mins
Total Time: 0 hours 30 mins
Ingredients
1 head broccoli
1 lb. Yukon gold potatoes
1 large red onion
3 tbsp. olive oil
Kosher salt
pepper
1 1/2 lb. skinless salmon fillet
1/4 c. mayonnaise
1 tbsp. fresh lemon juice
1/2 clove garlic
Directions
Heat oven to 450 degrees F. On a rimmed baking sheet, toss together the broccoli, potatoes, and onion with the oil, 1/2 teaspoon salt, and 1/4 teaspoon pepper. Spread in an even layer and roast for 15 minutes.
Season the salmon with 1/4 teaspoons each salt and pepper, nestle it among the vegetables and continue roasting until the vegetables are golden brown and tender and the salmon is opaque throughout, 8 to 10 minutes more.
Meanwhile, in a small bowl, combine the mayonnaise, lemon juice, and garlic. Serve with the fish and the vegetables.
Quinoa and Veggies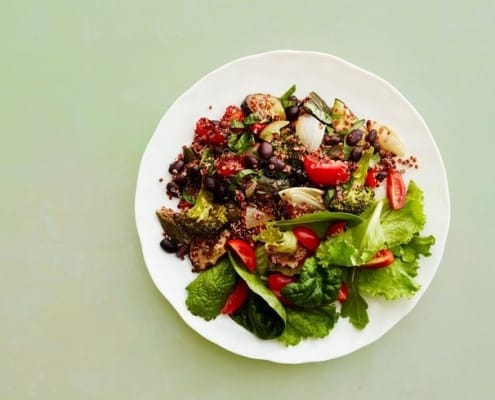 Ingredients
1/2 c. quinoa (recipe link in directions)
2 tbsp. basil, chopped
2 tsp. balsamic vinegar
1/4 c. broccoli
1/4 c. onion
1/4 c. zucchini
1 chopped bell pepper
1 c. low-sodium canned black beans
mixed greens
tomatoes
lemon juice
Directions
Toss quinoa with chopped basil; balsamic vinegar; 1/4 cup onion, zucchini, and broccoli, and bell pepper side (chopped); and rinsed and drained low-sodium canned black beans.
Serve with mixed greens tossed with tomatoes and lemon juice.
Rustic Smoky Glazed Chicken & Veggie Bake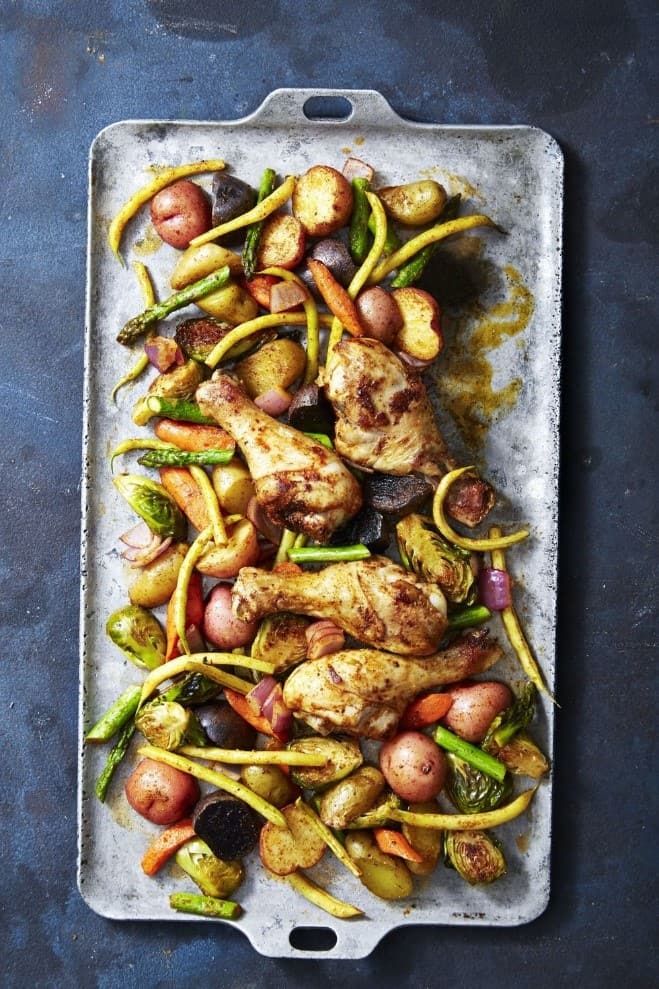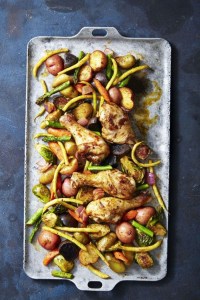 Ingredients
2 tsp. smoked paprika
2 tsp. ground cumin
1/2 tsp. pepper
extra-virgin olive oil
Kosher salt
1 lb. potatoes
1/2 lb. carrots
1/4 lb. Brussels sprouts
1/4 lb. onion
1/4 lb. halved mushrooms
1/4 lb. asparagus, cut up
1/4 lb. whole green beans
1 1/2 lb. chicken pieces
Chopped parsley, for serving
Lemon wedges, for serving
Directions
Preheat oven to 450 degrees F. Make rub: Combine paprika, cumin, and pepper.
On a large rimmed baking sheet, toss 2 tablespoons olive oil, one-third of rub, and 1/2 teaspoon salt with potatoes, carrots, Brussels sprouts, and onion. Roast 10 minutes.
On another baking sheet, toss 2 teaspoons olive oil and one-third of rub with mushrooms, asparagus, and green beans. Push to one side of pan. On other side, arrange chicken pieces. Sprinkle with remaining rub. Season veggies and protein with 1/2 teaspoon salt. Roast both pans 20 to 35 minutes or until chicken is cooked and all veggies are softened (transfer chicken from pan to platter if cooked before veggies are tender). To serve, garnish with parsley and squeeze of lemon.
Veggie Wraps with Goat Cheese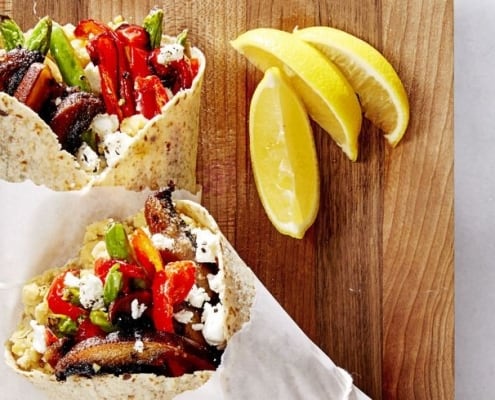 Ingredients
2 portobello mushroom caps, sliced
1 large red pepper, sliced
8 oz. green beans
2 tbsp. olive oil
1/4 tsp. salt
2 15 oz. cans chickpeas, drained
3 tbsp. lemon juice
1/4 tsp. pepper
4 soft-taco-size whole grain wraps
1 oz. fresh goat cheese, crumbled
Lemon wedges
Directions
On 2 rimmed baking sheets, toss mushrooms, red pepper and green beans with olive oil and salt. Roast in 450 degrees F oven 30 minutes.
Mash chickpeas with lemon juice and pepper; spread on whole-grain wraps. Top with veggies and goat cheese. Fold to wrap. Serve with lemon wedges.
About 465 cals, 19 g protein, 66 g carbs, 16 g fat (3 g sat), 17 g fiber, 910 mg sodium.
These recipes are all quick and easy! When shopping for ingredients make sure to check out local Farmers Markets. Support local farmers!
Pro tip– double the recipe and you've got lunch for the next day!
Drop your favorite Spring time recipes in the comments below!
Happy Spring!
https://www.goodhousekeeping.com/food-recipes/easy/g30631834/spring-dinner-ideas/?slide=12