Warm and Delicious Fall Recipes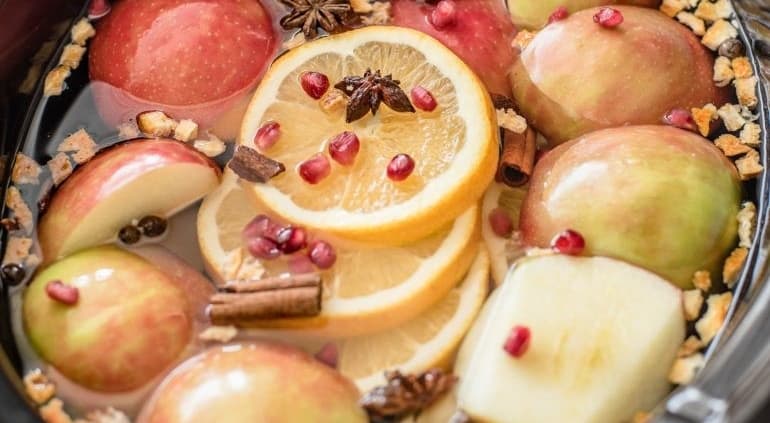 The summer heat is slowly coming to an end here in the Midwest. With the crisp and cooler weather kicking in, we have some yummy recipes to help keep you warm! These dishes have all the cozy spices and flavors to get you in the autumn mood.
Crock Pot Fall Cider
(recipe from almostsupermom.com)
Ingredients:
• 8 cups of water
• 4 honey crisp apples
• 1 pear
• 1 orange, sliced
• 1 cup of sugar
• 4 cinnamon sticks
• 2 tbsp mulling spices
• 1/4 cup pomegranate seeds
Instructions:
1. Core and slice the apples into quarters
2. Slice the orange into thin slices
3. Combine all ingredients in the bowl of your Crock Pot slow cooker
4. Cook on low for 8 hours
5. After 8 hours scoop the fruit, spices and cinnamon sticks out of the bowl and discard
6. Pour the remaining liquid through a strainer to remove and large spices or chunks.
7. Garnish with fruit and cinnamon sticks
Sweet Potato Baked Oatmeal
(recipe from eatingbirdfood.com)
Ingredients:
• 2 cups rolled oats
• 1 teaspoon baking powder
• 1 1/2 teaspoons pumpkin pie spice
• 1/2 teaspoon cinnamon
• 1/2 teaspoon sea salt
• 2 cups unsweetened almond milk
• 1 cup mashed sweet potato
• 1/4 cup pure maple syrup, plus more for serving
• 1 Tablespoon ground flaxseed*
• 1 Tablespoon coconut oil, melted
• 1 teaspoon vanilla extract
For the Topping:
• 1/4 cup brown sugar or coconut sugar
• ¼ cup chopped pecans (or walnuts)
• 2 Tablespoons rolled oats
• 1 Tablespoon coconut oil, melted
Instructions:
1. Preheat oven to 375°F.
2. Spray an 8-inch square baking dish with cooking spray.
3. In a large bowl, mix together the oats, baking powder, pumpkin pie spice, cinnamon and salt. Stir to combine.
4. Add in the milk, sweet potato, maple syrup, flaxseed, coconut oil and vanilla to the bowl. Stir well to combine.
5. Carefully pour oatmeal mixture into the prepared baking dish.
6. Mix together topping ingredients in a small bowl and sprinkle over oatmeal mixture.
7. Bake for 30 to 35 minutes, until the top is golden, and center is set. Remove from the oven and let cool for a few minutes. Portion and serve.
8. Store cooled leftovers in an airtight container in the fridge. This baked oatmeal will keep well in the refrigerator for 4 to 5 days or in the freezer for 1 to 2 months.
Harvest Chicken Skillet with Sweet Potatoes, Brussels Sprouts, and Sautéed Apples
(recipe from wellplated.com)
Ingredients:
• 1 tablespoon olive oil
• 1 pound of boneless skinless chicken breasts, – cut into 1/2-inch cubes
• 1 teaspoon kosher salt – divided
• 1/2 teaspoon black pepper
• 4 slices thick-cut bacon – chopped
• 3 cups Brussels sprouts – trimmed and quartered (about 3/4 pound)
• 1 medium sweet potato – peeled and cut into 1/2-inch cubes (about 8 ounces)
• 1 medium onion – chopped
• 2 Granny Smith apples – peeled, cored and cut into 3/4-inch cubes
• 4 cloves garlic – minced (about 2 teaspoons)
• 2 teaspoons chopped fresh thyme – or 1/2 teaspoon dried thyme
• 1 teaspoon ground cinnamon
• 1 cup reduced-sodium chicken broth – divided
Instructions:
1. Heat the olive oil in a large skillet over medium high, until hot and simmering. Add the chicken, 1/2 teaspoon kosher salt, and black pepper. Cook until lightly browned and cooked through, about 5 minutes. Transfer to plate lined with paper towels.
2. Reduce skillet heat to medium low. Add the chopped bacon and cook until crisp and brown and the fat has rendered, about 8 minutes. With a slotted spoon, transfer the bacon to a paper towel-lined plate (I simply laid another paper towel on top of the plate with the chicken, then stacked the bacon on that). Discard all but 1 1/2 tablespoons bacon fat from the pan.
3. Increase skillet heat back to medium high. Add Brussels sprouts, sweet potato, onion, and remaining 1/2 teaspoon salt. Cook, stirring occasionally, until crisp-tender and the onions are beginning to look translucent, about 10 minutes.
4. Stir in the apples, garlic, thyme, and cinnamon. Cook 30 seconds, then pour in 1/2 cup of the broth. Bring to a boil and cook until evaporated, about 2 minutes. Add the reserved chicken and remaining 1/2 cup broth. Cook until heated through, about 2 minutes. Stir in reserved bacon and serve warm.
Spicy Pumpkin and Pesto Cheese Stuffed Shells
(recipe from halfbakedharvest.com)
Ingredients:
• 2 tablespoons extra virgin olive oil
• ½ pound of ground spicy Italian chicken sausage
• 1 red bell pepper, chopped
• 1 cup pumpkin puree
• 1/2 cup vodka
• 1 cup whole milk
• 2 teaspoons dried oregano
• 1 pinch crushed red pepper flakes
• kosher salt and pepper
• 1 pound of jumbo shells
• 16 ounces (about 2 cups) whole milk ricotta cheese
• 2 cups shredded fontina cheese
• 3/4 cup basil pesto, homemade or store bought
• 8 ounces mozzarella, torn
• fresh basil, for serving
Instructions:
1. Preheat the oven to 350 degrees F. Lightly grease a 9×13 inch baking dish or dish of similar size.
2. Heat the olive oil in a large pot over high heat. When the oil shimmers, add the chicken sausage and brown all over, about 5 to 8 minutes. Reduce the heat to low, add the bell pepper, pumpkin, vodka, milk, oregano, crushed red pepper flakes, and a pinch each of salt and pepper. Simmer for 15 minutes or until the sauce thickens slightly. Taste and adjust seasonings as needed.
3. Meanwhile, bring a large pot of salted water to a boil over high heat and boil the pasta until al dente according to package directions.
4. In a medium bowl, combine the ricotta, fontina, and 1/2 cup pesto.
5. To assemble, spoon 3/4 of the pumpkin sauce into the bottom of the prepared baking dish. Working with one pasta shell at a time, spoon about 1 tablespoon of the cheese mixture into each shell, placing the filled shell into the baking dish as you go. Spoon the remaining pumpkin sauce over top of the shells and then drizzle the remaining 1/4 cup pesto evenly over everything. Add the mozzarella.
6. Transfer the baking dish to the oven and bake 20-25 minutes or until the cheese has melted and is lightly browned on top. Cool 5 minutes before serving. Serve with fresh basil. Enjoy!
Recipe notes:
*If you'd like to make this vegetarian, no problem, just omit the chicken sausage and use a little more crushed red pepper flakes for heat, if you'd like.
*To make the pasta ahead, just do everything up until the final baking, cool, and store in the fridge until ready to serve!
https://strivechiropracticwi.com/wp-content/uploads/2020/09/crock-pot-cider.jpg
1024
770
rich
https://strivechiropracticwi.com/wp-content/uploads/2022/04/Strive-Integrative-Health-A1-1-1.png
rich
2020-09-15 18:46:40
2022-10-28 22:32:33
Warm and Delicious Fall Recipes